The Inter BEE (International Broadcast Equipment Exhibition) 2016 was held from November 16th through 18th at the Makuhari Messe in Japan, where ARIB/DiBEG participated in the exhibition for promotional activities on ISDB-T. This was the 3rd time of participation for ARIB/DiBEG.
The Inter BEE was its 52nd, with the largest number of exhibitors of 1,090, including 593 foreign companies/institutions from 34 countries. At the exhibition hall, with the start of the 4K/8K trial broadcasting from August, there were more exhibits and displays of the related equipment and technologies than last year, also introducing IP transmission of 4K/8K materials.
At the ARIB/DiBEG booth we introduced the latest status of standardization activities in broadcasting as well as our international promotion of ISDB-T by DiBEG, by providing exhibit panels and brochures.
Since it is the 10th anniversary this year that Brazil adopted ISDB-T as its national digital TV standard, we showed the 10-year history of international promotional activities of ISDB-T, together with video commemorating the 10th year.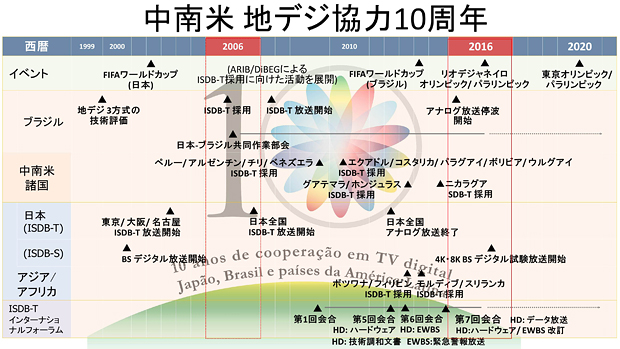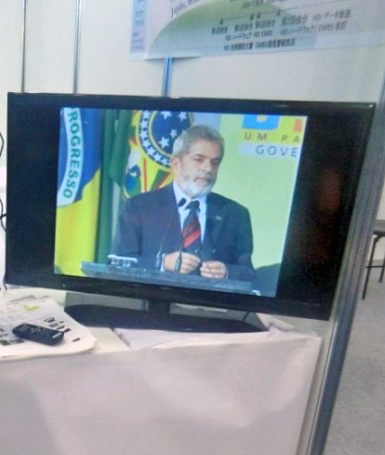 Also at the booth we demonstrated the trial unit of EWBS (Emergency Warning Broadcast System) receiving module, to contribute to further promotion of EWBS among the ISDB-T adopting countries. Many of the people dropping by at our booth showed strong interests in the concept of the EWBS receiving module.