One-Seg Service
One-Seg service for Mobile Devices
ISDB-T transmits a HDTV program and a mobile TV program within one channel at the same time.
ISDB-T is designed so that each channel is divided into 13 segments. An HDTV broadcast signal occupies 12 segments, leaving the remaining one segment for mobile receivers. Thus services for mobile reception is named "1-seg" or "One-Seg".
1-seg also supports data broadcasting which provides news, weather information, and even program-related information with the mobile terminal's telecommunications functions via the Internet.
Viewers can enjoy a sharp TV picture any time, anywhere with a variety of mobile terminals.

Video (H.264)

approx. 180 – 256kbps
320 * 240 or 180
15 fps
Audio (AAC-SBR)

approx. 32 – 64kbps
Data-cast (BML)

approx. 20 – 80kbps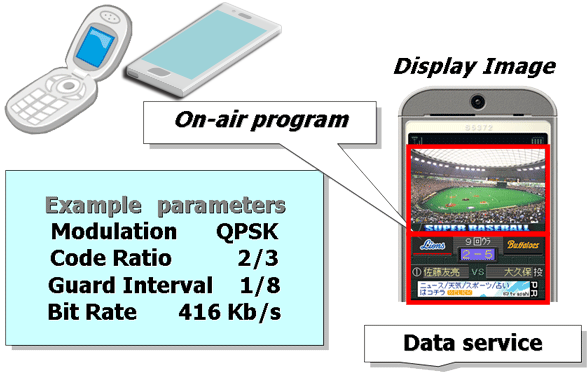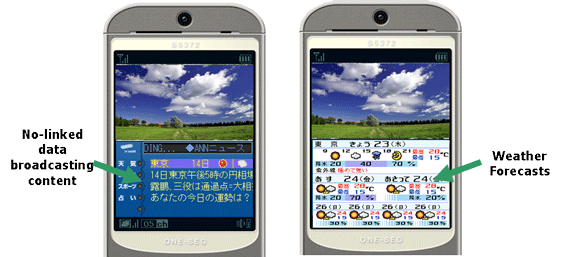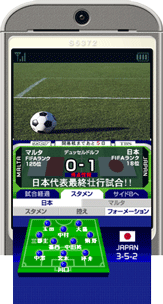 Unique & Unparalleled Broadcasting Service
Example of business model
Additional information service
This service can provide additional information linked to on-air programs such as information on athletes and celebrities, recipes, questionnaire and quiz.
TV shopping
This service enables viewers to purchase commercial goods shown on shopping program.
Local service
This service can provide local information such as emergency alerts, local events, notice from local government or hospital.
New technology
Automatic activation of One-Seg receivers through emergency warning broadcasts.
For the detail explanation, see EWBS.