About DiBEG
DiBEG
DiBEG (Digital Broadcasting Experts Group), under the Association of Radio Industries and Businesses (ARIB), was established for the international promotion of the digital terrestrial TV broadcasting standard (ISDB-T, or Integrated Services Digital Broadcasting – Terrestrial) which Japan have developed. It has been actively continuing its promotional activities worldwide since 1997 while the R&D in the field of broadcasting has been progressing.
Since Brazil decided to adopt ISDB-T in 2006, other countries such as Peru, Argentine, Chile, Venezuela followed it; and in February 2019 Angola became the symbolic 20th ISDB-T adopting country, including Japan.
In the meantime there has been a growing trend in the further advancement of digital terrestrial TV technologies such as 4K/8K.
In July 2020, Brazil called for proposals on advanced terrestrial digital broadcasting technologies ("TV 3.0") ; and DiBEG made a proposal of "Advanced ISDB-T," which is an advanced version of ISDB-T.

Broadcasting will continue its evolution in its technologies and features. DiBEG would like to call your kind attention to our ongoing efforts and activities in this diversifying field.
Activities
Research of the trend toward digital broadcasting in the world.
Exchange of digital broadcasting technologies and facilitation of common understanding.
Technical assistance for the countries where ISDB-T has been adopted.
DiBEG Structure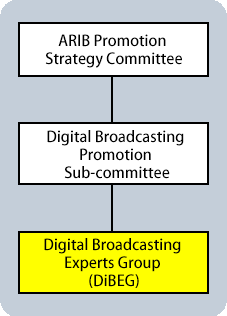 Members
Chairman : Masayuki Takada ( NEC Corporation )
Vice-chairman : Susumu Saito ( Japan Broadcasting Corporation (NHK) )
Members ; 16

Secretariat
Contact point
Please click the transmission button after filling in the following items when inquiring.
Please be sure to fill in items marked "required".