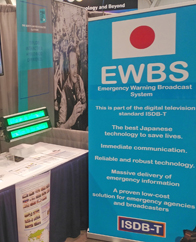 The National Association of Broadcasters Convention and Exposition (NAB Show) 2019 was held at the Las Vegas Convention Center in Las Vegas, Nevada, U.S.A. from April 6 through 11, 2019.
DiBEG participated in the Exhibition, by showing panels to introduce our international activities in the ISDB-T promotions and by performing demonstrations of EWBS (Emergency Warning Broadcast System), using a signage device at the "FUTURES PARK" in the North Hall.
We intended to exhibit and demonstrate the EWBS as one of the key features of ISDB-T. The demo system consisted of the transmission/reception equipment to simulate the EWBS operating situations in some of the ISDB-T adopting countries in Latin America, such as Peru and Costa Rica, putting emphasis on the concept of easily telecasting emergency warning information based on the digital terrestrial TV standard: ISDB-T.
Our booth attracted visitors from those countries not adopting ISDB-T as well as those from adopting countries; yet they expressed their desire to have a similar system for broadcasting emergency warning.