DiBEG hosted ISDB-T Seminar and Demonstration in the Philippines. This time, we operated test transmitter and demonstrated both indoor and outdoor reception. Also, EWS (Emergency Warning System) was introduced and demonstrated. During 2 days, the technical seminar was held for 9 themes. Many participants were impressed by both seminar and demonstration. As the new event of seminar, Filipino members have presentations from their aspects. In demonstration, HDTV + data-casting was shown. …
The ISDB-T Seminar and Demonstration was held on 9 and 10 October 2008 in the Philippines hosted by DiBEG.  The seminar and demonstration was favorably reviewed from experts and engineers of broadcasters and academics in the Philippines.
For this seminar, a lot of presentation topics were prepared;
– What is ISDB-T?
– What is possible?
– What now in service?
– Technical Background of ISDB-T
In addition, the topic of "Comparison of 3 DTTB systems based on the results of the field tests" were presented.
In accordance with the above topics, a lot of of ISDB-T advantages were described such as high quality service and/or service flexibility, better receiving performances under multi-path/fading condition, portable service in same band and Emergency Warning System (EWS: see Presentation3: "Emergency Warning System").
The demonstration also included a "Live" mobile HD field reception of ISDB-T test signal which is currently ongoing courtesy of GEMNET TV.  The demonstration gained a lot of accolades especially to those who had skepticisms about ISDB-T's superiority over other DTV standards.  Overall, the participants were very impressed With the outcome of the demonstration.
DiBEG will continue to conduct seminars and demonstrations to further promote ISDB-T.
Overview of the seminar and demonstration

| | |
| --- | --- |
| Date | 9th and 10th ,October, 2008 |
| Place | Hotel Rembrandt in Quezon City, Metro Manila, Philippines |
| Hosts | DiBEG (Digital Broadcasting Experts Group) |
| Purpose | To promote the advantages of ISDB-T digital broadcasting system |
For the details of the seminar and demonstration
ISDB-T Seminar
Seminar Outline
Digital Television is a technology that allows broadcasters to deliver superior picture and audio quality services that will enhance the viewing experience of the people at your home, inside a car/bus/train and even on your mobile phone or other portable TV devices. It should also provide additional services that were previously not possible through Analog Broadcast such as Datacasting Services (Weather, traffic, public information, sports, etc.), Interactivity and most especially Emergency Warning Broadcast Services (EWBS). These services will let Filipino population get more attractive and better life.
In the selection of the Digital Television Standard for the country, ISDB-T is the most preferable for the Philippines because ISDB-T is the only one standard that has all of excellent features written above.
ISDB-T is a technology designed and built to provide excellent viewing experience to the people. It can provide broadcasters the chance to choose HDTV broadcasting or multiple-SDTV broadcasting, and let them to broadcast to both Fixed receivers and Mobile/Handheld receivers. It also allows broadcasters to serve technical implementation that has already been proven and in service such as Datacasting Services, Interactivity and EWBS. Which are unrivalled by any other DTV standard.
Especially, Emergency Warning Broadcast System allows people with receivers to immediately receive warning information. The Philippines is a country that is located right above the equator encountering several typhoons/calamities, floods, landslides every year that results to loss of life and damage to properties. Aside from that, the country also is situated on an area called the "Pacific Ring of Fire" that experiences occasional volcanic and seismic activities.
ISDB-T paves the way for the expeditious delivery of warning advisories from various government agencies (PAGASA, Philvocs, NDCC, DECS/CHED, etc.) directly to the people. This feature is in actual operation on only ISDB-T and cannot be found in any other DTV standard.
Moreover, ISDB-T is more economical than any other DTV standards because broadcasters only need a single infrastructure to broadcast to Fixed, Mobile and Handheld receivers while other DTV standards need another infrastructure to broadcast to Mobile and Handheld receivers.
ISDB-T receiver cost depends on the features that the viewer needs. The low cost receiver which could be available at $30 has been announced by MIC (Ministry of Internal Affairs and Communications, Japan). This will greatly minimize the impact of DTV transition and migration.
ISDB-T indeed is the best fit DTV standard for the Philippines and with the benefit of the Filipino People ahead of anything else. They will be assured of a superior DTV service that will serve them for many years to come.
Presenters
Mr. Shigeo TANI (MIC, Japan)
Mr. Hiroki ISHIHARA (MIC, Japan)
Mr. Takahashi (DiBEG Chairman, Japan)
Mr. Yokohata (NHK STRL, Japan)
Mr. James Rodney P. Santiago (ARIB consultant in Philippines)
Mr. Inada (Fuji Television, Japan)
Mr. Sakashita: (Panasonic, Japan)
Mr. Caesar Villadiego (GEMNET/NET25, Philippines)
Themes and outline
Totally 9 themes were presented during 2 days.  For details, please click each title.
ISDB-T Demonstration
Outline
Demonstration of ISDB-T was held simultaneously in same room of seminar.  In the exhibition, participant saw wide variety of services such as HDTV program, data broadcasting, mobile TV service called One-Seg, EWS (Emergency Warning System), and some kinds of flat display panel TV set and One-Seg receivers such as cellular phones, notebook PC.
The details of each demonstration are introduced in next corner.
1. Configuration of demonstration
As shown in following figure, the test signal was transmitted from GEMNET transmitter station with 400W, channel 49. Signal contents for demonstration was "HDTV + One-Seg with data-casting" In Rembrandt Hotel, receive this test signal and demonstrate various configuration.

2. Fixed reception
ISDB-T has many variety of TV service type.
As examples, 4 kinds of service type were demonstrated,

(1) HDTV display with data-casting,
(2) SDTV display with data-casting,
(3) HDTV display only,
(4) SDTV display only.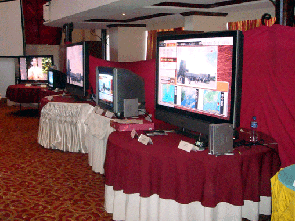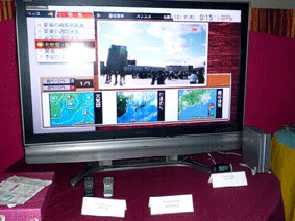 3. Portable reception
There are some mobile reception receivers for One-Seg of various forms.  The mobile telephone which had One-Seg built-in is the most popular.  Besides that, there are various forms of One-Seg built-in equipments as electronic dictionary, DVD player, portable navigators, game instruments, etc.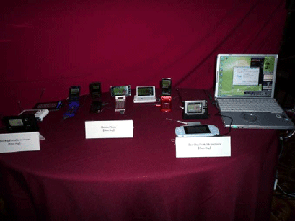 4. EWS system
| | |
| --- | --- |
| (1) | The EWS is a broadcast service that automatically activates receivers when a disaster occurs such as an earthquake or Tsunami. |
| (2) | The EWS can instantly deliver emergency information to a large number of people. |
| (3) | NHK STRL developed a prototype compact EWS receiver that can be connected to a One-Seg receiver for ISDB-T. |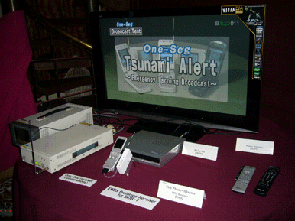 5. Mobile reception demonstration
Some ISDB-T receivers for in-vehicle use are already marketed in Japan.  They can continue receiving high-vision broadcast in stable during movement with both high robustness of ISDB-T system and the diversity antenna systems.  In mobile reception demonstration, ISDB-T receiver for vehicle and 11 inches car monitor were demonstrated with stable high-vision reception in running.