The Digital Terrestrial TV Seminar was held in San Salvador, the capital city of El Salvador on June 27 and 28. More than 100 people participated in the Seminar, from Superintendencia General de Electricidad y Telecomunicaciones (SIGET), and other government bodies, Televisión de El Salvador (TVES, national TV), private broadcasting companies, etc.
About 20 people from Japan participated in the Seminar as a Japanese delegation, including Mr. M. Tarahara, Ambassador Extraordinary and Plenipotentiary of Japan to the Republic of El Salvador, Mr. H. Ogawa, Director for Digital Broadcasting Technology of Ministry of Internal Affairs and Communications (MIC) and several MIC representatives, Dr. M. Sugawara, Chairman of Digital Broadcasting Experts Group (DiBEG), and some representatives from ARIB/DiBEG member companies and the secretariat.
El Salvador decided to adopt ISDB-T as its national digital terrestrial TV standard in January this year, the 19th country, including Japan, adopting the standard. In March MIC invited Ms. Blanca Noemi Coto Estrada, Superintendenta-Directora Presidenta of SIGET to Japan to offer information and to exchange views and opinions on ISDB-T. Then in May Ms. M. Kaneko, Parliamentary Vice-Minister of Internal Affairs and Communications, paid an official visit to El Salvador, and signed the agreement on the support and cooperation on ISDB-T, which included holding a seminar on ISDB-T. And this time, based on the agreement, the Seminar was held in San Salvador; and ARIB/DiBEG decided to dispatch its representatives for the seminar as presenters and exhibitors.
At the Seminar opening, Ms. Coto kindly made a welcome speech to the Japanese delegation, appreciating that many experts came all the way from Japan to El Salvador for this Seminar. Following the welcome speech by Ms. Coto, Mr. Carlos Eduardo Valle, Gerente de Telecomunicaciones of SIGET, made a detailed presentation on the latest status of their digital terrestrial TV implementation, in which he mentioned that as of June 1st they started a trial digital TV project, with multi-program and One-seg configuration, that they are working on the master plan for the migration to digital terrestrial television; that they are intending to put commercial broadcasting service into operation as early as January, 2018, and also that they are studying the possibility of allowing new entrants in TV broadcasting service in the migration to digital TV.

Representing the Japanese part, Mr. H. Ogawa of MIC presented experiences of Japan in the digital terrestrial TV implementation, followed by Mr. M. Sugawara of DiBEG and DiBEG member company representatives (from Hitachi Kokusai Linear, NHK ITEC, SONY, Maspro Denkoh) and the secretariat, each presenting explanations on the outline of ISDB-T, signal transmission/distribution technologies, EWBS, studio equipment and systems, TV receiving products, and international promotional activities of DiBEG.
At the closing of each presentation there was an active Q&A session, in regards to multi-programming in other ISDB-T adopting countries, One-seg diffusion status in Japan, pricing of EWBS display device, etc., which seemed to be in preparation for the commercial broadcasting service of ISDB-T soon.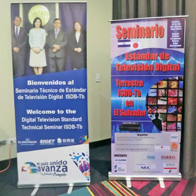 In parallel to the Seminar, there were demonstrations and exhibitions by SIGET and DiBEG member companies (Seminar participating companies and NEC), including the receiving demonstration by SIGET of live broadcasting of ISDB-T test transmission. At the DiBEG member exhibition booths there were various inquiries and consultations on the introduction of new equipment and systems to prepare for digital TV; and also the demonstration of indoor flat panel antenna and the
EWBS display device attracted strong attention of the Seminar participants.