The two-day ISDB-T seminar and demonstration was quite successful, attracting more than 200 participants to the seminar presentations as well as demonstrations of ISDB-T reception, using LCD displays, STBs, One-seg cell phones and also with a vehicle navigation unit mounted onto a bus for the testing of mobile reception of HD and One-seg signals. …
Ecuadorian government is continuing their study and analysis as to which digital TV standard to take, and is expected to make a recommendation as early as in the end of February, 2009.  As one of their efforts in public disclosure of information, there was an open TV forum on digital television on December 28, 2008, intended to outreach toward Ecuadorian general public with latest available news and information on digital TV, telecast live on multiple TV channels.
MIC and DiBEG responded to these series of efforts by the Ecuadorian government in participating in the seminar on digital TV held in Cuenca on December 4 and 5, presenting the latest information on ISDB-T, combined with an indoor demonstration of ISDB-T transmission and reception.
On December 9, 2008 DiBEG and MIC started ISDB-T signal transmission in Quito, using a 500W digital transmitter installed at a TV transmitting station in Pichincha, emitting HD and One-seg signals to wide areas of Quito.
Following this success in the start of ISDB-T signals, DiBEG set up the seminar and demonstration on January 28 and 29, 2009.  DiBEG, together with MIC, would like to express deepest appreciation toward SUPERTEL and CONARTEL for their kind support and cooperation in concluding the event quite successfully.
Overview of the seminar and demonstration

| | |
| --- | --- |
| Date | 28 and 29, January, 2009 |
| Place | Hotel Swissotel Quito in Ecuador |
| Hosts | DiBEG (Digital Broadcasting Experts Group) |
| Purpose | To promote the advantages of ISDB-T digital broadcasting system |
For the details of the Seminar and Demonstration
ISDB-T Seminar
Seminar Outline
ISDB-T Seminar was held on January 28-29, 2009, at Hotel Swissotel Quito in the city of Quito, Ecuador.  The seminar was hosted by DiBEG and MIC (Ministry of Internal Affairs and Communications, Japan) with the help of Brazil.  The seminar was also supported by SUPERTEL and CONARTEL of Ecuador.  In two days of the seminar 236 people gathered from governmental officials, broadcasters, academics, and mass-media of Ecuador.To open the seminar, Mr. Akira Terasaki, Vice-Minister of MIC, presented his opening address followed by the welcoming greetings from the guests:Mr. Fabián Jaramillo Palacios, Superintendent of SUPERTEL
Mr. Antonio Garcia Reyes, President of CONARTEL
Mr. Shigehiro Takeuchi, Charge d?EAffaires, Embassy of Japan in Ecuador
Mr. Antonio Marquez Porto, Ambassador, Brazilian Embassy in EcuadorOn January 28, six experts from MIC and DiBEG gave their lectures.
On January 29, Prof. Gunnar Bedicks Junior, Universidad Presbiteriana Mackenzie, lectured.
Presenters
Mr. Hideo Fuseda, MIC
Dr. Hiroyuki Furuta, NHK.
Mr. Yutaka Shibata, Tokyo Broadcasting System Television, Inc.
Mr. Rafael Perez, Toshiba de Mexico
Mr. Cesar Gallegos Chavez, NEC Peru
Mr. Claudio Herrera, Panasonic Latin America
Prof. Gunnar Bedicks Junior, Universidad Presbiteriana Mackenzie
"28th of January"
Digitalización de transmisión de TV y caracterúticas del ISDB-T (Spanish) — "Mr. Hideo Fuseda"
Tecnologús de transmisión del ISDB-T sus ventajas y aplicaciones (Spanish) — "Dr. Hiroyuki Furuta"
ISDB-T Aplicaciones (Spanish) — "Mr. Yutaka Shibata"
Ahora la Television Digital Terrestre tambien tiene la facilidad de ser movil y portatil — "Mr. Rafael Perez"
La Televisión Digital Terrestre y el estándar ISDB-T Actividades en Per — "Mr. Cesar Gallegos Chavez"
Equipos Terminales Para TV Fija — "Mr. Claudio Herrera"
"29th of January"
ISDB-tb La Robustez la Señal Digital ISDB-T — "Prof. Gunnar Bedicks Junior"
Tecnologús de transmisión del ISDB-T sus ventajas y aplicaciones — "Mr. Rafael Perez"
Snapshot in Seminar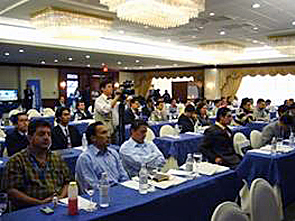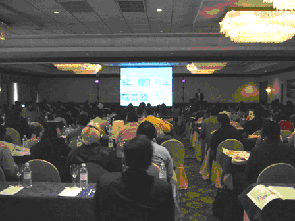 ISDB-T Demonstration
Fixed reception
The demonstration of the ISDB-T with HDTV program and handheld TV services called One-Seg was performed in the intervals between lectures during the seminar.  Those present in the seminar amounted to about 150 on the first day and amounted to about 90 on the next day.  They watched HDTV pictures intently since this is the first full-scale demonstration of digital terrestrial television in Ecuador.  They were also surprised with clear pictures on small and light receiving devices of One-seg service.
Mobile reception demonstration
The demonstration of in-vehicle reception of an HDTV program signal was carried out during the intervals of lectures in the seminar.  About 50 participants got into the vehicle in four rounds of demonstration on the first day.  Two routes were selected in the city to run the vehicle to demonstrate mobile reception of ISDB-T signals.  One route was a course toward the south-west direction from the hotel, and the other route was a course to SUPERTEL by going to the opposite direction from the hotel with the turn counterclockwise.  It took about ten minutes to finish the demonstrations in each route.
Stable reception of an HDTV program signal was kept during the run through both the routes without any breaks of HDTV pictures, except inside tunnels and shadowed areas in the courses.  When the HDTV signal was not available, the in-vehicle receiver automatically switched itself to the reception of One-seg signal which reaches farther than the HDTV signals.  A local analog television signal was also received sporadically while the vehicle was in motion by changing the receivers.
Clear pictures received through digital terrestrial television broadcast was witnessed by the participants by comparing with ones received through analog television broadcast, which was damaged by shadowing or delayed signals reflected from the surroundings.  Benefits of digital terrestrial television broadcast by ISDB-T impressed all the participants.  About 30 participants got into the vehicle in three rounds of demonstration on the last day.