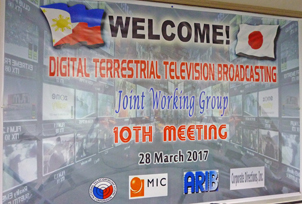 The 10th Japan–Philippines Joint Working Group Meeting was held in Manila, the Philippines on March 28, 2017 at the headquarters of National Telecommunications Commission (NTC). The Japanese delegation was comprised of the representatives from Ministry of Internal Affairs and Communications (MIC), Embassy of Japan in the Philippines, an ARIB expert and a couple of consultants.
The Filipino side was comprised of the representatives of NTC and a JICA expert.
The Joint Working Group Meeting is held several times a year since the Philippines has adopted ISDB-T, to study and tackle the imminent challenges for the ISDB-T implementation, in which ARIB/DiBEG has been involved to extend its technical support and cooperation.
Mr. K. Okazaki, who was recently assigned to NTC as JICA Expert in digital television, also participated in the meeting.
NTC explained that the major broadcasters have made applications for the digital terrestrial TV broadcast services, and the license would be eventually granted to each of them; that Memorandum Circular of Sales and Labeling of ISDB-T Receivers would be reviewed in consideration of such requests from digital TV receiver manufacturers; and the current status of the operation of conditional access system (CAS).
MIC of Japan explained the necessity of building a radio wave supervision system during the migration to terrestrial digital broadcasting, countermeasures against interference and poor reception in digital TV, cooperation for the training of digital terrestrial TV technicians in the Philippines, together with the latest status of other ISDB-T adopting countries, as well as the implementation status of 4K⋅8K satellite test broadcasting in Japan, etc.