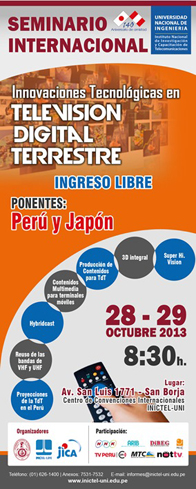 The "ISDB-T International Seminar of New Technology in Peru" was held in Lima, Peru, on October 28 and 29, 2013, organized by INICTEL (National Institute for Research and Training in Telecommunications – National Engineering University) and JICA.
The Seminar was based on the request by INICTEL to Japan to get to know the latest broadcasting technologies in Japan and also get trained of various services available in the field of new telecommunications and broadcasting.
The Japanese delegation included the following people;
Dr. Keisuke Takachi, Director, International Economic Affairs Division, Global ICT Strategy Bureau, Ministry of Internal Affairs and Communications (MIC);
presenting ICT Policies after TDT in Japan.
Mr. Kimihiro Tomiyama, Chief Engineer, Engineering Administration Department, NHK;
presenting Super Hi-Vision — The Next Generation of TV
Mr. Tomoyuki Ohya, Director, Senior Vice President, Technology & Solution Department, mmbi, Inc,;
presenting ISDB-Tmm Mobile Multimedia Broadcasting in Japan.
Mr. Masahiko Fujimoto, Vice General Director, ARIB;
presenting the Reuse of VHF and UHF Bands after Analogue TV Shutdown in Japan.
The speakers from the Peruvian side included the following;
Eco. Raul Ricardo Perez Reyes Espejo, Vice Minister of Communications, Ministry of Transport and Communications (MTC);
presenting Policies and Projections about Digital Terrestrial TV in Peru.
Ing. Daniel Diaz Ataucuri, Director, Research and Technological Development, INICTEL-UNI;
presenting Technological Development in Digital Terrestrial TV in INICTEL-UNI and its Projections in Society.
Ing. Jorge Saavedra Tamayo, Technical Director, National Institute of Radio and TV of Peru (IRTP);
presenting Content Production for Digital TV — Experience of TV Peru.
There were approximately 600 people attended the two-day Seminar, from MTC, INICTEL, IRTP, universities and other organizations, and they actively participated in the Q&A sessions.
In Peru, there was another seminar on digital terrestrial TV held in February, 2013. Thanks to the strenuous efforts by Mr. Katsumasa Hirose, JICA Expert in Peru, the communications between Japan and Peru are being enhanced on and on in the field of digital terrestrial television.