On November 25-26, 2010, the KBP (the Kapisanan ng mga Brodkaster ng Pilipinas, the Association of Broadcasters of the Philippines) held its annual Top Level Management Conference and General Membership meeting in Taal Vista Hotel, Tagaytay City, Philippines.
This occassion was attended by the key executives of the various TV & Radio Networks in the Philippines with the participation of various equipment vendors, industry supporters, the Ministry of Internal Affairs and Communications of Japan, key government officials of the Philippines consisting of the representatives from the National Telecommunications Commission and the Commission on Information and Technology.
During the conference, the Ministry of Internal Affairs and Communications of Japan and the Association of Radio Industries and Businesses made an exhibition booth in cooperation with ACCESS Co. Ltd., Leader Electronics Corp., Maspro Denkoh Corp., Sharp Corporation, Toshiba Corporation, Smart networks and Kami Electronics Industries Co. Ltd. showcasing variety of ISDB-T products.
In addition, the live transmission from Manila and reception inside the hall of Taal Vista Hotel of an ISDB-T signal was demonstrated which has gained admiration from the delegates in terms of its quality and robustness despite the limited transmitter power being emitted 60 Kilometers away.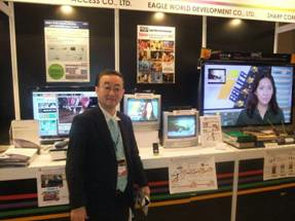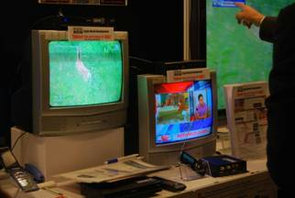 During the sessions, Mr. Gamaliel A. Cordova, the Commissioner of the National Telecommunications Commission made a speech summarizing the past discussion including the issue of the Memorandum Circular adopting the Japanese ISDB-T as the digital TV standard for the Philippines, and high ling the upcoming decision making process including the Technical Working Group 3 to define the Implementing Rules and Regulations for the Digital Terrestrial Television roll-out in the Philippines.
Also, Mr. Toshiyuki Yokota, the Director General for International Affairs of the Ministry of Internal Affairs wished for the success of the Philippine broadcasters in their pursuit of excellence.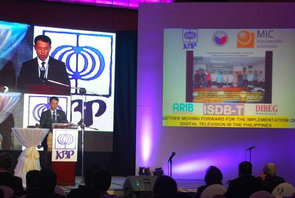 Dr. Hiroyuki Furuta, Senior Research Engineer, NHK Science and Research Laboratories made a presentation on the advantages of the ISDB-T systems.