The 4th Japan-Botswana Joint Working Group Meeting was held at the headquarters of Ministry of Internal Affairs and Communications (MIC) in Tokyo on July 8, 2016.  Botswana decided to adopt ISDB-T in 2014, being the 1st ISDB-T adopting country in the African continent; and since then has had a bilateral meeting with Japan every year for the support and cooperation in the ISDB-T implementation.  The meeting this time was attended by the representatives of Botswana's Department of Broadcasting Services (DBS) of the Office of Presidency and of the Embassy of Botswana in Japan; while the Japanese side was represented by MIC, Japan International Cooperation Agency (JICA), Association for Promotion of Advanced Broadcasting Services (A-PAB), ARIB/DiBEG, etc., and they exchanged views and opinions on digital TV of both countries and discussed mutual collaborative works in digital broadcasting from now onward.
Botswana explained that they started nationwide digital terrestrial TV broadcasting as of December, 2015; would materialize analog switch-off (ASO) in December this year; while the sales pace of digital TV receivers, frequency arrangement with neighboring countries, etc. are the challenges they now face.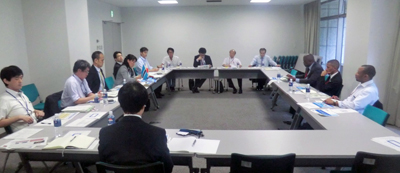 On the other hand Japan explained its experiences in the marketing promotion of digital TV receivers, ASO, etc., and expressed their willingness to continue its support for the smooth completion of ASO, frequency planning, etc.  Also regarding the points of interests of Botswana, Japan explained in details of the technologies of EWBS and the current status of studies of the Technical Harmonization Documents in the ISDB-T International Forum.
Taking the opportunity that Botswana is scheduled to host the World Telecommunication/ICT Indicators Symposium (WTIS) in November this year, both parties agreed to prepare for the next Joint Working Group Meeting to be held at that occasion.